Jim Morrison – Facts And Legends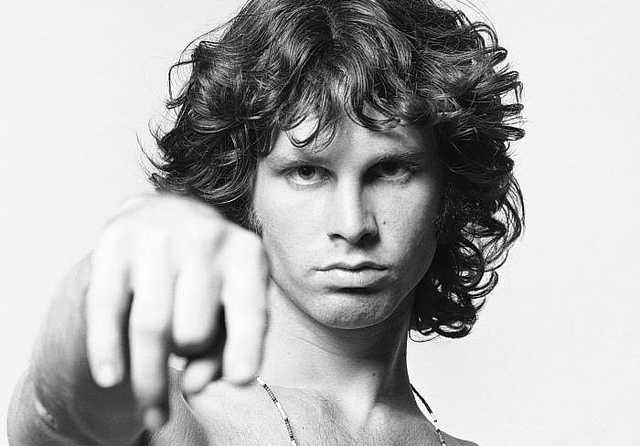 Jim Morrison, American singer and songwriter, was born on December 8, 1943, in Melbourne, Florida. During his early years, he was a dutiful and highly intelligent child, excelling at school and taking a particular interest in drawing, writing and reading. Morrison underwent a traumatic experience at the age of five when driving with his family through the New Mexico desert.
On the highway, a truck packed with Indian workers had crashed. Mutilated and dead bodies of the victims were all across the road. His family members have suggested that he exaggerated the incident, but it nevertheless made a deep impression on Morrison that he described years later in the lyrics of his song "Peace Frog."
Due to his father's naval service, Morrison moved frequently as a child. First from Florida to California and then to Alexandria and Virginia, where Jim attended George Washington High School. During this period, he began to rebel against the strict discipline of his father, discovering women and alcohol and bristling at many forms of authority. However, he remained an avid diarist, a voracious reader and a decent student. When Morrison graduated from high school, he asked his parents for the complete works of Nietzsche as a graduation present, which was a testament to both his rebelliousness and bookishness.
He returned to his birth state to attend Florida State University in Tallahassee, after graduating from high school. Later, Morrison decided to transfer to the University of California at Los Angeles to study film, after making the Dean's List his freshman year. Film was a relatively new academic discipline, and for this reason there were no established authorities. This was something that greatly appealed to the freewheeling Jim Morrison. Morrison also developed an interest in poetry at UCLA. He quickly lost interest in his film studies and would have dropped out of school if not for his fear of being sent into the war in Vietnam.
In 1965, Morrison graduated from UCLA just because he didn't want to go into the army, and he didn't want to work. In 1965, he joined classical pianist Ray Manzarek, drummer John Densmore, and guitarist Robbie Krieger to form a band – the Doors, with Morrison as frontman and vocalist. The following year, Elektra Records signed the Doors, and in January 1967 the Doors released its self-titled debut album. Their first single, "Break on Through," achieved only modest success. However, their second single, "Light My Fire," reached No. 1 on the Billboard pop charts, catapulting the band to the forefront of the rock and roll world.
Later that year, the band became infamous (especially Morrison) when they performed the song live on The Ed Sullivan Show. Morrison had agreed not to sing the lyric "girl we couldn't get much higher" on the air, because of its obvious drug reference. However, when the cameras rolled Morrison went ahead and sang it anyway. The song remains the band's most popular song, featured prominently on major lists of the greatest rock and roll songs ever recorded. Over the next several years, the Doors released a flurry of albums and songs, combining Morrison's outlandish stage presence and darkly poetic lyrics with the band's unique and eclectic brand of psychedelic music.
During the Doors' brief tenure atop the music world, Jim's private life and public persona were spiraling rapidly out of control. Morrison's drug addictions and alcoholism worsened, causing the violent and profane outbursts at concerts that provoked the club owners and cops across the country. He spent almost the entirety of his adult life with Pamela Courson. Even though Morrison briefly married a music journalist named Patricia Kennealy, he left everything to Courson in his will. However, throughout his relationships to Kennealy and Courson, he remained an infamous womanizer. On the night of December 9, 1967, Morrison's drug use, infidelity and violent temper culminated in disaster in New Haven, Connecticut.
He was drunk, high and carrying on with a woman backstage before a show when he was confronted by a police officer and sprayed with mace. Morrison then went onstage and delivered a profanity-laced tirade that led to his arrest onstage, resulting in area riots. Three year later, Morrison was arrested for allegedly exposing himself at a concert on Florida, though the charges were posthumously dropped decades later. In the spring of 1971, Morrison took time off from the Doors and moved to Paris with Courson, in an attempt to get his life back in order. However, he continued to be plagued by depression and drugs. Courson found him dead in the bathtub of their apartment on July 3, 1971, apparently of heart failure.
The French officials found no evidence of foul play, and for this reason no autopsy was performed, resulting in endless speculation and conspiracy theorizing about Morrison's death. Sam Bernett, a Paris club owner, published a book in 2007, claiming that Jim Morrison died of a heroin overdose at his nightclub and was later carried back to his apartment to cover up the real reason for his death. Morrison was buried in Paris, at the famous Pere Lachaise Cemetery, and is grave has since become one of the Paris' top tourist destinations. Jim Morrison was only 27 years old at the time of his death.
Morrison remains one of the most mysterious and legendary rock stars of all time. Set to the music of the Doors, his eloquent odes to rebellion inspired a generation of disaffected youth who found in Morrison's lyrics an articulation of their own range of emotions.