8 Ways To Pick Up Pet Hair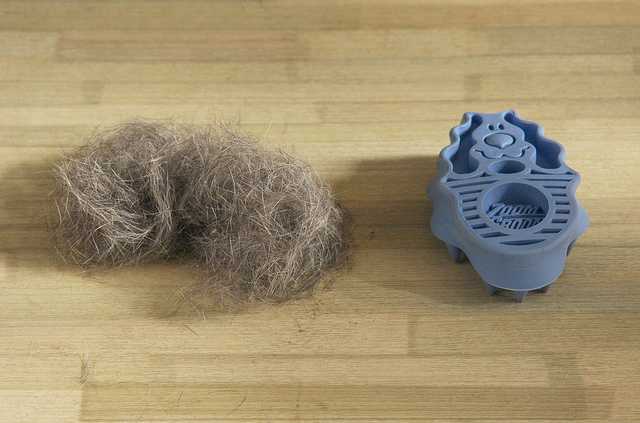 People around the world have pets and, unfortunately, some may lose fur and this can result in causing a number of problems.
Hair from a beloved pet can be very frustrating when it finds its way into your furniture, clothes, carpeting and upholstery. However, it doesn't mean that you have to start avoiding your cuddly animal. In this article we will provide you with information on how to remove your pet's hair from almost any surface.
1. Grooming Glove
Grooming glove is a surface cleaner and a dog grooming tool all in one. One of the advantages of this glove is that it looks like some kind of science fiction prop. All you have to do is pet your dog with the glove to give your pet a shiny coat, and then pick up stray hair from the couch of chair with the same petting motion.
2. Kong Zoom Groom
This is an excellent grooming tool with stiff-but-gentle rubber bristles that remove loose hair and stimulate skin of your dog for a shiny and healthy coat. You can also use Zoom Groom for gentle brushing at bath time to help work shampoo through the coat of your pet.
3. Sticky Roller
This is the classic. Easy to use and relatively inexpensive, the only downside is that sticky roller does not stand up to dehairing the entire room in one go, and is best suited to small jobs such as cleaning off your clothes on the way out the door.
4. FURemover Duo
This is an excellent tool for quick clean-up around the household. FURemover Duo can be used to brush your pet's coat and remove loose fur before it gets to your furniture. Furthermore, the finer bristles are great for brushing hair off the upholstery. In addition, it comes in many different colors.
5. FURemover Broom
Thanks to their strong hair-gathering ability, rubber brooms, such as FURemover Broom, are a staple in doggy daycare. This broom is great on several surfaces, so you can de-hair the tiled kitchen and the carpeted living room in one go, and the long handle means you can clean everything from a standing position.
6. Pick It Up Mitt
Pet hair removal mitts are effective and affordable for gathering pet hair off of fabric. These gloves have soft, little nubs that pick up pet hair and are also easily cleaned by rubbing two
mitts together in opposite directions. Additionally, mitts are excellent for removing pet's hair from more delicate clothing, because the soft material means your clothes won't be pilled or pulled from abrasion.
7. Dyson Animal Vacuum Cleaner
The Dyson Animal Vacuum Cleaner is the Cadillac of pet hair removal tools. It has a bag-free canister that empties at the press of a button, a powerful suction, and a tangle-free turbine tool to remove hair and dirt from upholstery and carpets. Even though there are other competent pet hair vacuums on the market, this one is the dream.
8. Pledge Fabric Sweeper
This pet hair removal tool uses two rollers to lift and trap pet hair and its attached hair/handle trapper can be emptied between rounds. The Fabric Sweeper is best for cleaning up couch cushions and pillows, and it is easy to find in most major stores.