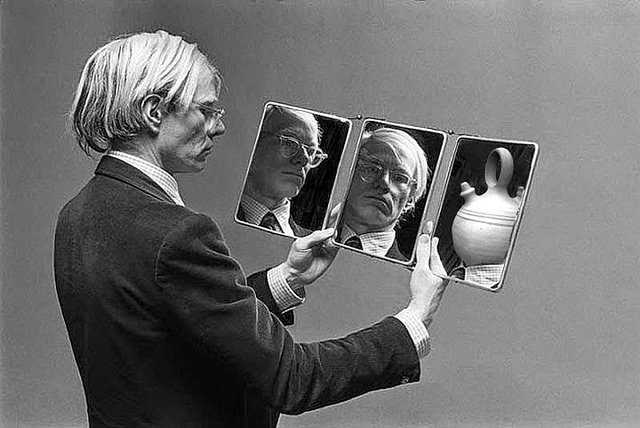 Photo by El señor Ubé y el señor Botijo
Andy Warhol was born as Andrew Warhola in the neighborhood of Oakland in Pittsburgh, Pennsylvania on August 6th, 1928. His parents were immigrants from Slovakia. Ondrej Warhola and Julia Warhola, his father and mother, were a construction worker and an embroiderer. Warhol contracted Chorea at the age of 8, which is a rare and in some cases fatal disease of the nervous system that left him bedridden for a few months. During this period, while he was still in bed, his mother gave him his first drawing lessons, since she was a skillful artist.
It didn't take long before drawing become his favorite childhood pastime. Warhol was also a fan of the films, and when his mother brought him a camera, he took up photography as well. He attended Holmes Elementary school and took the free art classes at the Carnegie Institute in Pittsburgh. At the age of 14, in 1942, he again suffered a tragedy when his father passed away. His father had recognized Andy's artistic talents, and decided that his life savings go toward college education of his son.
Warhol began at Schenley High School that same year, and upon graduating he enrolled at the Carnegie Institute for Technology to study pictorial design. When Warhol graduated from college in 1949, he moved to New York City to start a career as a commercial artist. In September, he found a job with Glamour magazine and went on to become one of the most successful commercial artists of that time. Thanks to his uniquely whimsical style, he won frequent awards. Warhol used his own rubber stamps and blotted line technique to crate his drawings.
He began devoting more attention to painting in the late 1950's, and he debuted the concept of pop art in 1961. They were paintings which focused on mass-produced commercial goods. Warhol exhibited the paintings of Campbell's soup cans in 1962. This created a major stir in the art world, bringing both pop art and him into the national spotlight for the first time. His other famous pop paintings depicted hamburgers, vacuum cleaners and Coca-Cola bottles. Warhol also painted celebrity portraits in garish and vivid colors.
Some of his most famous subjects were Mao Zedong, Mick Jagger, Elizabeth Taylor and Marilyn Monroe. When these portraits gained notoriety and fame, he began to receive a lot of commissions for portraits from celebrities and socialites. Warhol opened his own art studio in 1964, simply called The Factory. It didn't take long before it became one of premier cultural hotspots in New York City. Many parties were attended by the wealthiest celebrities and socialites in the city.
However, his great career almost ended in 1968. Warhol was shot by Valerie Solanis, who was a radical feminist and aspiring writer. During this attack, he was seriously wounded. Solanis was arrested after the shooting and later pleaded guilty to the crime. Warhol spent many weeks in a hospital, recovering from his injuries. In the 1970's, he continued to explore other forms of media. Warhol published a few books, such as "Exposures" and "The Philosophy of Andy Warhol." He also tried video art and produced more than 60 movies during his career.
Some of Warhol's most famous movies include "Eat" and "Sleep." He also worked in photography and sculpture. In the 1980's, Warhol moved into television, where he hosted Andy Warhol's TV and Andy Warhol's Fifteen Minutes on MTV. Warhol died at the age of 58 on February 22nd, 1987. His personal life has been the subject of much consideration and debate. Warhol is believed to have been a homosexual, and his art was often infused with homoerotic motifs and imagery.
However, Warhol claimed that he was a virgin for his entire life. His work and life simultaneously celebrated and satirized celebrity and materiality. Warhol's paintings of distorted brand celebrity faces could be seen as a critique of what he saw as a culture obsessed with celebrity and money. On the other hand, his focus on pop-culture icons, consumer goods and his own taste for fame and money, suggest a life in celebration of the aspects of American culture which his work criticized.