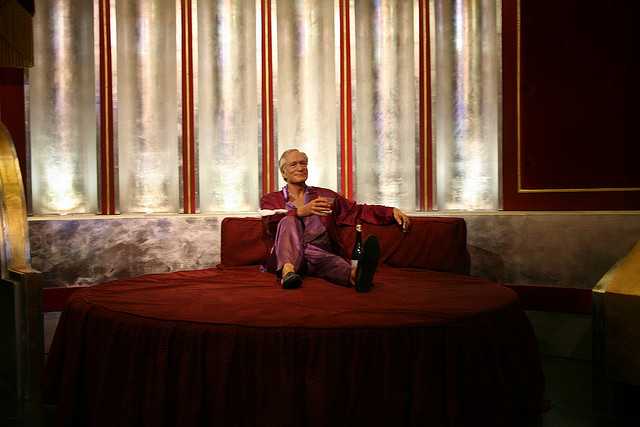 Photo by cliff1066™
The well-known playboy of America is a self-made person and his name is written down in the list of millionaires. He was the one who loved to break all boundaries to create new goals and achieve them with zeal. Hugh Marston Hefner was born in April, 9th and he became famous for his publications of American adult magazine.
He worked as a journalist with Esquire and he also toiled in the World War II. He was a self-made man with properties worth of 43 million dollars. He was born in Chicago and his parents were both teachers. The family descended from Plymouth and Hefner himself described his family as conservative.
Early life and schooling
Hefner was the elder of the two brothers and his Methodist parents sent them to Sayre Elementary School. He then went to Steinmetz High School in Chicago where his IQ was recorded to be over 152. His teachers found his enthusiasm low until he started school newspaper that reflected his talents later. He left school and served in the U.S. Army for the World War II and got discharged in 1946. Then he went to Chicago Art School for 2 more years and he got into University of Illinois. He majored in psychology and became Graduate in 1950.
Ambitious young man in later life
He met his wife in 1949 during the graduation period and Mildred Williams was his partner when he started his life after graduation. He had a lot of energy and was ambitious too. He was working at a basic job in Esquire Magazine. This magazine published a lot of features on men's life and fashion. It also published literary works of important writers. There were a lot of illustrations for young people and the young copywriter Hefner soaked all details for future use. He left the magazine in 1953 because he was denied a raise.
Starting of real challenging career
The time when he was not working for Esquire was the period when his patience and intelligence was tested. The first issue of Playboy had no date and featured the most talked about Marilyn Monroe. This copy was a success and 50,000 copies were sold. He was unsure of the future of Playboy but it became popular with the people who wanted something interesting to keep the memories of the World War out of their views.
There came a picture of a rabbit in a tuxedo in the second issue of Playboy magazine and this remained the logo of the magazine. Hefner said the rabbit was chosen for "its humorous sexual connotation" and he also wanted something funny and playful.
Success for the philanthropic playboy
He wanted to bring something real for the men in his magazine and not the usual "he-man' write-ups that were common for men's magazines. The playboy was for the intellectual male who wanted to know the right things and to mete out humor for his friends, including the simple girl who lives next door.
With the shining market of the magazine, its owner also changed his looks. He looked sophisticated and always socializing with the right kind of men and women. He was thought as the charismatic person for the young people who were a part of the sex revolution of the 60's. His awards and contributions towards the society will keep him in the minds of many in years to come.