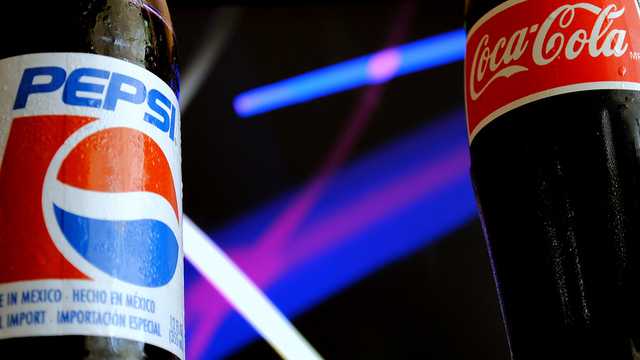 Photo by Sean Loyless
The hot and thirsty world is cooled by some cool drinks. They have different tastes and flavors. The cola is the most popular cold drink in the world and the most popular cola drinks are from Pepsi and Coca Cola Company. These two companies have locked their horns with each other from long back and they have got different advertisements that show they are constantly competing with each other.
The recent one is from Pepsi True that is going to be sold through Amazon and it will be coming in the market in a green colored container that is mostly like the can of a coke. These challenges have been thrown at each other more than once in the history and the marketing annals have got all these funny marketing stunts and advertisements chalked down in them.
Beginning of the wars
These wars started around in 1900's when the two companies, Coca Cola and Pepsi Cola were using ads to mark down the products of each other. The first snipe was from Pepsi in the ground of medicinal properties in cola. It was announced that some had cocaine in their own cola recipe and so the other one was a safer option for people to drink.
The next thing was the Pepsi challenge – a taste test for the people who loved cola. People blind tasted two colas to find out which they favored. Then Coke brought up the similar tests in 2009 and ran a promo of the previous Pepsi challenge. They tried to convince people that their drink was better than their rival's drink.
Choice of drinks and market supremacy
People think that the carbonated drink companies are in a never ending war because there have been a lot of such incidents and advertisements to try to show down the rival company. Market supremacy raged between Coca Cola and PepsiCo as the major contenders and then came the Dr Pepper Snapple and other smaller players. Despite these market control plans, Coke dominated the market for two decades as of now. The people have tried to cut down in drinking carbonated drinks. People don't drink as much cola, they prefer drinking juice and other healthier drinks.
Market trend and control in hands of consumers
People are trying to stay away from sugary drinks and they're opting for fruity drinks. The Coke has simply juices and the Minute Maid drinks while Pepsi has introduced Tropicana. Pepsi has got new sports drink named Gatorade while Coke has got PowerAde for the health conscious people.
The consumers are now choosing to pay higher price for their health so new packages of 8 ounce can is being priced more than the regular 12 ounce old model cans. The analyst Amit Sharma rates Coke as "market perform" and the Dr Pepper Snapple is mentioned as "underperform" while PepsiCo is marked as "outperform". Coca Cola has risen to 12 percent of market share and the PepsiCo has got 25 percent of the market in recent times.
The S&P has got 15 percent share and the Dr Pepper Snapple Group has got a huge 62 percent of the market share and they outflanked the rivals. PepsiCo though has got a diversified market control. Coca Cola has got a secure bit in the soda market and restaurant chains and so one can say that the Cola war is still raging with new entrees in the arena and they're becoming tougher day by day.