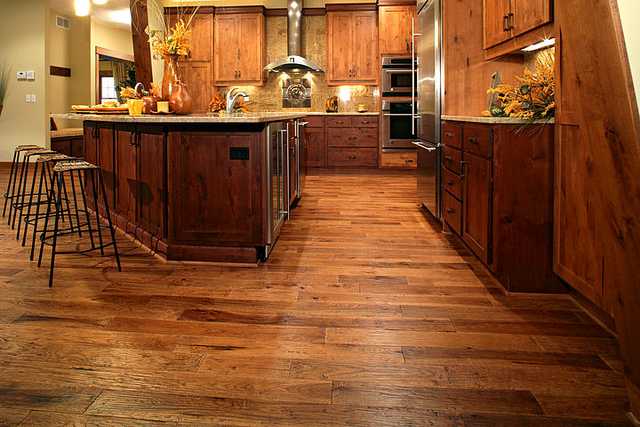 Photo by Burroughs_Hardwoods
Hardwood floors in the kitchen are a joy and a pleasure to see, but they need a little care if they are going to keep on looking good. If you have hardwood floors in your kitchen, you will find that it is important for you to think about to clean them. Though the finishing on the hardwood floors will keep them in good shape, there are a few things to keep in mind.
Sweep First
When you get ready to clean your hardwood floors, remember that you should always sweep first. Regular sweeping takes care of dust, which can cause tiny scratches in your floor, making it look dull and lifeless. You can use a soft-bristled broom or for the best results, use a mop that has been treated with a dusting solution.
Mopping
While dust mopping or sweeping on a regular basis will keep your hardwood floor in good shape, you will find that a deeper clean requires a solution designed especially for hardwood floors. Follow the directions on the solution, and use it to mop your floors. Wring the mop out as thoroughly as possible before mopping; the less water that ends up on your floor, the better. After you have mopped using the special solution, repeat the process with plain water.
Dishwashing Detergent
When you are working in the kitchen, you will generally see that grease spots are just a fact of life. if you want to make sure that the grease spots don't stay, dab a small amount of dishwashing detergent onto a clean towel and rub some onto the grease spot. After letting it sit for a few minutes, scrub it out with a clean wet cloth. Repeat if necessary. Take a moment to dry the spot in question after you are done.
Put Down Mats
if you have specific areas of your kitchen that are particularly prone to splatter, like around the stove or the sink, take the time to put down an attractive mat of some kind. A mat will ensure that the wood is not touched by more staining or corrosive things, and it keeps your kitchen cleaner in general. Make sure that you shake the mats out once in a while.
If you are thinking about keeping your kitchen in the best shape possible, take a moment to consider how to take care of the hardwood floor. It does require more care than a basic tile or linoleum floor, but in terms of beauty and longevity, it is worth the time and effort!