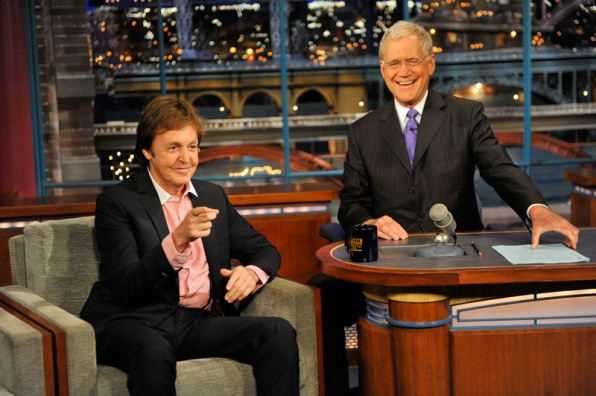 Photo by rudolphd
David Letterman, comedian and late-night talk show host, is known for his cynical, mocking style as well as for his irreverent sense of humor. He was born on April 12th, 1947, in Indianapolis, Indiana. His big break came when he started appearing with Johnny Carson on The Tonight Show. Letterman was later offered his own late-night show. The show became widely popular, since his humor was well suited to the late hour.
Letterman moved to CBS to host Late Show, when NBC gave Carson's spot to Jay Leno. A few day ago, David Letterman announced that he is retiring from the show. David Letterman, television personality as well as talk show host, was born on April 12th, 1947, in Indianapolis, Indiana. His parents are Harry Joseph Letterman, who was a florist, and Dorothy Letterman, who was a church secretary. His mother appeared often as a correspondent on David's late-night talk show.
Letterman also has two sisters, Gretchen and Janice. David Letterman is best known for his cynical sense of humor, and his hap-toothed self-mockery. Letterman's sense of humor and unconventional demeanor attracted many followers, which has gone on to inspire many talk show hosts and comedians who have followed him. David studied radio and television at Ball State University, in Muncie, Indiana.
During his career, he worked as a radio talk-show host in Indianapolis, the host of children's program as well as a late-night movie show, a television weatherman and as a news anchor, where his humor was already evident, if not necessarily appreciated. Letterman once upset his bosses when he congratulated a tropical storm on being upgraded to a hurricane. He moved to Los Angeles in 1975, where he wrote material for popular sitcoms, such as Good Times.
David's big break came when he started appearing on The Tonight Show along with Jonny Carson. He referred to Carson as his mentor. Letterman became Carson's regular guest host in 1978, and in 1980, he was offered the David Letterman Show, which was his own daytime show. Although the show only lasted for 3 months, it was a critical success. It was enough to convince NBC-TV to give Letterman a late-night show following Caron's The Tonight Show.
The late-late show hour was suited to brash and quirky humor of David Letterman. This show soon became very popular with a young audience by mixing typical talk-show ingredients of celebrity guests and music with Letterman's irreverent manner and humor. David Letterman's signature features included Viewer Mail, Stupid Pet Tricks, The Top Ten List, Stupid Human Tricks and pencil tossed at the camera and at the set behind him, breaking the glass which doesn't exist with a cued crash sound.
David is also known for his parody sketches which targeted the obviously weak acting abilities of Paul Schaffer, his bandleader, along with other member of The World's Most Dangerous Band, general odd-ball Larry Melman and stage-hand Biff Henderson.