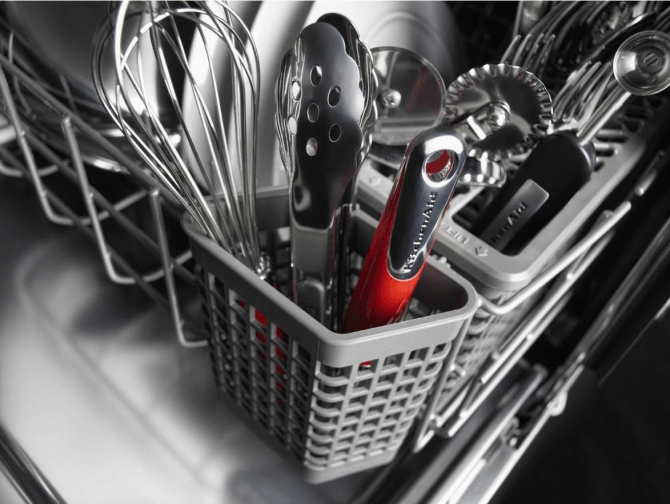 There is no arguing about the fact that dishwashers are the most important appliances at home. However, they can also cause a nuisance when they malfunction by creating leaks and noise. If you have a dishwasher purchased before 2012, you might be surprised to hear that dishwashers manufactured after January 2012 now have a stringent requirement to reduce electricity usage by 9 percent and water usage by 27 percent in order to meet the EPA's Energy Star standard. The most important criteria for dishwashers still holds good, though, i.e. how well they can clean the dishes. We have made a comprehensive research on the modern stainless steel dishwashers and came up with the following list of top 5.
This dishwasher is the top choice when it comes to cleaning efficiency coupled with modern features. The Whisper Quiet system featured in this dishwasher insulates sound and provides a surprisingly quiet yet powerful performance. It includes 40 spray jets at the back coupled with spray zones at the top to provide a highly effective cleaning performance. The controls are located at the top of the dishwasher door, giving a clean front look. It also features an automatic wash cycle selection for determining the appropriate cycle and makes real-time adjustments for best cleaning performance.
Bosch Dishwasher is a European brand dishwasher and is a top brand in quietness at 39 decibels. European dishwashers don't have the food disposal systems that are normally present in the U. S. made dishwashers, contributing to this extra quietness. Bosch dishwasher has a unique four-part leak protection feature that prevents water damage. The upper rack can be adjusted for height and up to nine rack positions. It is also extremely power efficient, consuming only 239 KWH per year. Additional key features for Bosch dishwasher include express 30-minute wash cycle, glass care cycle for fine glassware, half load option for smaller loads, and a sensor to determine the wash load to adjust the wash cycle automatically.
If you are looking for optimal cleaning performance in a short amount of time, then Kenmore Elite is the best choice. Packed with Power Wash 360 degree technology that can spray water from multiple angles, this dishwasher can help to clean grease and food particles with ease. It also features a sanitizing rinse cycle that helps to remove bacteria left on the dishes. Another key feature for this dishwasher includes a smart wash cycle, which helps to reduce energy and water usage. A most compelling feature that distinguishes this dishwasher from others is the ultra wash filter, which traps food particles and prevents them from re-entering the dishwasher, thereby keeping the water cleaner and dishes clean and spotless.
One of the unique features of LG Studio is TrueSteam technology, a steam-based wash feature. This eliminates the need to pre-wash the dishes. TrueSteam is also ideal for cleaning the fragile items as well as heavy-duty items. LG Studio features three different steam cycles, adjustable for both power and delicate usage. Although not as quiet as Bosch, LG Studio is in its own league at 42 decibels, which is still quieter. The racking system is quite flexible with the third rack being height adjustable. Other cool features of this dishwasher include overflow detector, a condensing drying system that is typically found in European dishwashers, and a highly efficient direct drive motor.
This dishwasher features dual pumps and motors and provides a good cleaning performance. With specialized jets provided for silverware and 100+ Spray Jet Wash System, this dishwasher provides the most comprehensive cleaning features. It also has an auto sense feature for automatic cycle selection in addition to the heavy, normal, and light dishwasher cycles. GE Café provides the most powerful drying features that include power and fan dry options. It also features a hard food disposer along with a water filtration system. The racking system is very robust that includes a full third rack and a customizable lower rack.