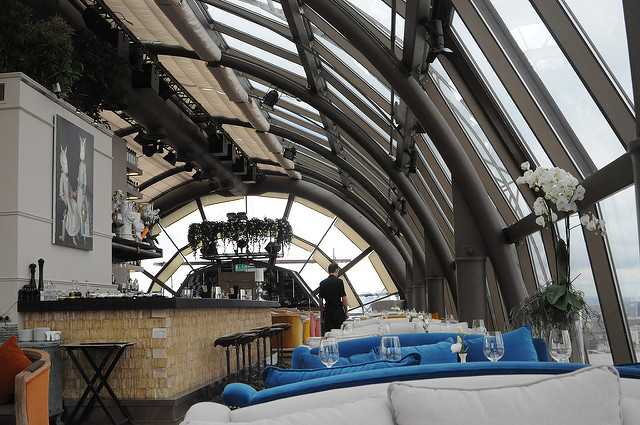 Photo by Aaron Kyle
Whether highly regarded because of unmatchable views or hyped by documentaries, some restaurants are really worth visiting. You should definitely visit these places, if you are, of course, lucky enough to get a reservation. Without further ado, here is our list of 6 best healthy restaurants around the world.
1. Sukiyabashi Jiro, Tokyo (Japan)
Many people have dubbed Sukiyabashi Jiro as the best sushi restaurant in the world. Unless you know someone who knows someone, it is almost impossible to get a reservation. Jiro Ono, sushi master, even has a documentary dedicated to him. At the moment, the restaurant holds three Michelin stars, and the 20 course meal is regarded as the freshest.
2. Sketch, London (UK)
Located in the heart of London, Sketch is an amazing place and a work of art. Its interior is so great that it is often photographed as pure inspiration. Dining area, which is designed by artists Didier Mahieu and Carolyn Quartermaine, resembles an enchanted forest, while the Gallery room is a pastel pink wonderland. Furthermore, the bathrooms might be the quirkiest restrooms in any restaurant in the world. Being designed like giant white eggs, stalls look amazing under a colorfully illuminated ceiling.
3. White Rabbit, Moscow (Russia)
With its striking views of Moscow and dome glass ceiling, White Rabbit serves an incredibly imaginative menu. This restaurant is more chic than cartoonish, and features a menu with fresh Russian produce (such as barrel cucumbers, beans, and fresh baked breads) combined with new luxury ingredients, such as caviar, truffles and foie gras.
4. Ekstedt, Stockholm (Sweden)
For the ultimate experience of old meets new, Ekstedt has it all when it comes to Scandinavian cuisine. This restaurant does not use any electricity to cook the food. Instead they opt to go back to their roots with hot coals, wood burning ovens and fire pits. However, the modern counterparts are in the ingredients. For example, arctic char is served with radish and seaweed, and an extremely avant-garde juice pairing also exists to go along with the restaurant's 4 to 6 course menu.
5. L'ami Jean, Paris (France)
It is very hard to narrow it down to just one list-worthy restaurant in a country that many people consider the culinary capital of the world. However, amid all the Michelin stars sits L'ami Jean, which is a bistro style hole in the wall with Basque influences. The traditional French flavors infused with modern flair is an impeccable mix of the food. However, it is the brash Parisian atmosphere that really sets the mood. You'll be sitting close to the people beside you, and the tiny space is so small that the chef's claps and commands can be heard throughout the meal.
6. Mugaritz, San Sebastian (Spain)
The highly inventive restaurant in San Sebastian – Mugaritz – is the forefront of the ingenious culinary revolution happening in the country. Andoni Luis Aduriz, the chef at the restaurant, delivers a feast of 24 courses with edible centerpieces, cutlery and more (there is no specific menu, and food is individually prepared based on person's desires and diets). The chef studied under the famous El Bulli empire, and the food definitely reflects that.