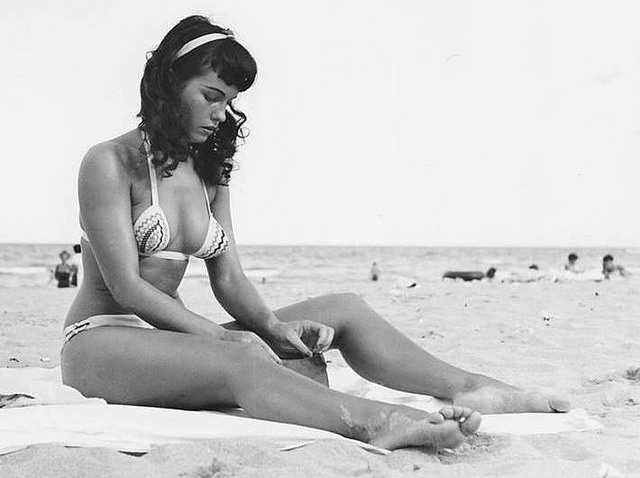 Photo by House Of Angelica OVER 12 MILLION VIEWS~THANK YOU!
Bettie Page was a sex symbol as well as pin-up model in the 1950s. The innocent-playful attitude and straight black bangs of Bettie made her a fashion icon in the United States. Bettie Page was born in Nashville, Tennessee, on April 22nd, 1923. In 1955, she posted for Playboy and also worked with Irving Klaw and Bunny Yeager, who were famous pin-up photographers. In 1957, a series of photos brought her to the Kefauver Hearings' attention, which was an event that contributed to Bettie's departure from decades-long reclusiveness and modeling.
After a long battle with mental illness, Page died in California in 2008. As we already said, Bettie Mae Page was born in Nashville, Tennessee, on April 22nd, in 1923. Page was the second of six children to Walter Roy Page (1896–1964) and Edna Mae Pirtle (1901–1986). While she was still young, Page had to face the responsibilities of caring for her younger sisters. Bettie's parents divorced when she was 10 years old. She was often placed in an orphanage along with her sisters while their single mother worked in order to save some money.
Her mother worked two jobs, one as a hairdresser during the day and the other washing laundry at night. Page was a great student. She graduated at her high school at Peabody College, as the top student in class. In 1943, Page married Billy Neal, who was her high school classmate. The ceremony was simple and was held shortly before Billy went into the Navy for World War II. When he came back, the couple moved to San Francisco in California, where she launched her modeling career. In 1947, Bettie got divorced from Billy Neal and moved to New York City.
In New York City she worked with a photographer in order to produce the first of many pin-up calendars. She posed for national magazines within months, including the centerfold of Playboy in January, 1955. With her raven black hair with signature short bangs and deep blue eyes, she became more than a model, Page was a living icon. Page also dabbled in acting. However, her success was primarily in modeling. In order to work with a few influential photographers, she moved to Florida. In 1958, Page married Armond Walterson, who was her second husband. Her third marriage to Harry Lear also ended up in divorce.
Bettie Page mysteriously disappeared from the limelight in the 1960s. It was said that she had suffered from severe mental problems. "Bettie Page: Dark Angel" with Paige Richards, in 2004, and "The Notorious Bettie Page" starring Gretchen Mol, in 2005, were the two movies about her life. Bettie Page, the pin-up queen of the 1950s, died in Los Angeles (California) on December 11th, 2008. Although Bettie retreated from the public life in order to live private life with her family, she remained the legend of pin-up girls till this day.