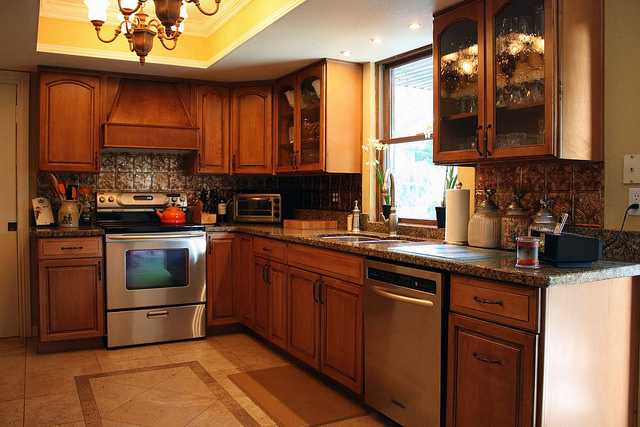 Photo by spacitylife
Whether you are concerned about the health effects of harsh cleaning chemicals or just want to save a few dollars, using natural cleaning agents is a great way to start keeping an eco-friendly home. The best part about natural antiseptics and cleaners is that you probably already have all of them in in kitchen already. In various combination or all on their own, the three most useful and effective natural ingredients are vinegar, lemons, and the almighty cure-all, baking soda. Here are a few ideas to get you excited about your new healthy, inexpensive cleaning regimen.
Microwave
Place a cooking safe bowl of equal parts vinegar to water in the microwave and turn it on for 3 minutes on HIGH. After it's done cooking, leave the door shut so the vinegar infused steam can work its wondrous magic. After letting it sit for about 5 minutes, take an old cleaning towel and wipe, wipe, wipe. The steam will break through caked-on gunk you didn't even know your microwave had acquired over years. Make sure not to let yourself get too grossed out by that dirty towel, just focus on your sparkling, all-naturally cleaned microwave.
Stove
Those little foaming cans of oven cleaner are so enticing due to their convenience factor, but do we really know what we're even using? Instead of fumigating your home with harsh and toxic oven cleaners, mix together a paste of 1/2 cup of baking soda with 2-3 tablespoons water. Remove your oven racks and apply the paste to all your oven's mysteriously grimy and sticky surfaces, except the heating element. You might want to do this at night because the paste needs to sit for about 12 hours. After 12 hours, use a damp cloth to wipe out most of the dried up paste and spray your whole oven with a mix of water and vinegar, which will react to the baking soda and foam up. Continue to wipe it down until you're in awe at your brand new(ly cleaned) oven!
Sink
To simply and effectively clean your entire sink, liberally sprinkle baking soda over all areas. Cut a lemon in half and gently scrub it over the baking soda in small, circular motions. Let all of that sit together for about 5 minutes and then rinse off with hot, hot water and wipe dry. This same cleaning strategy also works phenomenally for cleaning and sanitizing cutting boards.
There you have it, the three most-used cooking areas of your kitchen, sparkly clean, refreshingly scented and chemical free. I bet you had no idea how easy it could be to make your own kitchen cleaners and I bet you won't complain on the money you will save making this simple and smart switch. Happy cleaning!