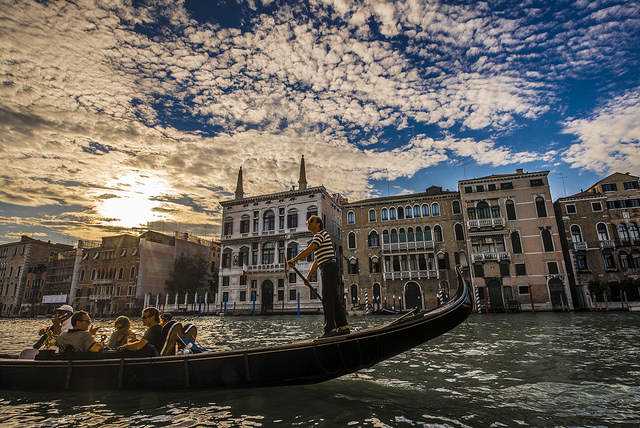 Photo by Wang Guowen (gw.wang)
Very strange feeling grip the man when he is in a city where most of the "main streets" make channels! But unlike other cities, the streets of Venice, the channels, were there before the city was built.
Venice was raised on muddy sandbanks that are made of more than a hundred small islands in the lagoon from the Adriatic Sea. All the buildings were built on piles driven into the mud. Between the dunes are narrow parts of the sea that make up the famous canals of Venice!
In this city, all traffic is performed by boats or on foot. In the old part of the city, car and truck traffic is not allowed. There are a large number of narrow streets and small bridges that connect the channels. Everywhere you can see boats called "gondola", where gondolier stands on the rear platform and powers gondola long paddle.
Venice is a very old city. Long before the goosebumps of the Huns and their passage through Italy, in mid-5th century, people lived on small islands of the lagoon. Later they founded twelve urban municipalities in the water, and it was the beginning of the creation of the state of Venice, which was gradually developed to the city which is now called Venice.
In 1450. Venice was the center of a large colonial empire and the largest naval force in the world. In the early 16th century, when people discovered a new trade routes and shops, Venice began to decline.
Later, Venice led many wars, lost their empire and was almost destroyed. Venice is associated with the Kingdom of Italy in 1866.
Today, Venice is one of the famous art centers of Europe and once again became an important seaport.