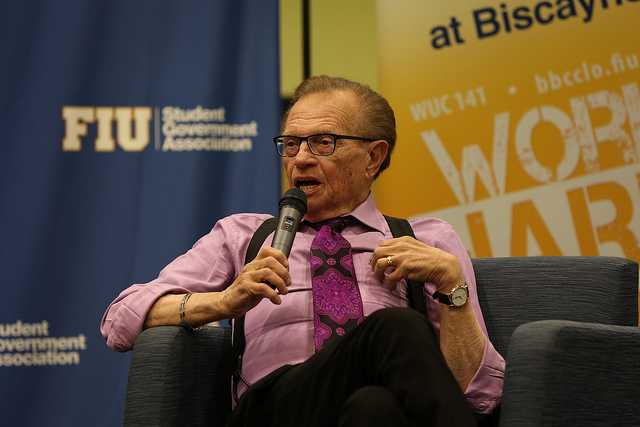 Photo by CampusLifeBBC
Larry King is one of the most recognizable personalities on television news, and it is not just because of his trademark suspenders and glasses. He has interviewed all sorts of subjects, from influential world leaders to contentious beauty queens, and has a unique knack for getting them to open up. Without further due, here are 5 things you should know about him.
1. King doesn't prepare for his shows
Larry King prides himself on only making small preparations for each episode of his show. King says that this technique helps him learn things about the people as the viewer learns them, so he doesn't spend time reading books about authors before interviews. This tactic has led to many comical situations. For example, in 1995, King asked a Catholic priest if he had any children and how old they were.
2. He wasn't always known as King
He was actually born as Larry Zeiger. When Larry moved to Miami from Brooklyn in 1957 to start his career as a media personality, his first employer shot down his last name. His first boss said that Zeiger was too ethnic, so Larry would need to choose a new name which was more memorable to listeners. In his autobiography, Larry said that his boss looked down at a paper and saw an ad for King's Wholesale Liquors. A stalwart media personality was born when his boss said that he should be Larry King.
3. Marlon Brando kissed King on the lips
In 1994, Larry King had a long interview with Marlon Brando which included, among other distractions, Brando forcing him to shake the hand of the actor's mastiff. The interview was conducted at Marlon Brando's home at Beverly Hills. Many bizarre things happened during the interview, but the most notable part was a kiss between two of them. Later King said that Marlon Brando was the only man who has ever kissed him on the lips, including King's family members. King also said that he is confirmed heterosexual, which makes sense, because he has been married eight times to seven women.
4. King hit John Kennedy
In 1958, King got into a little fender-bender, when he was still fairly new to Miami. Even though that fact is unremarkable, the other motorist in the accident was politician Senator John F. Kennedy. In his autobiography, King wrote about how flummoxed John Kennedy was over the accident before showing a more charitable side of the future president.
5. King called Dolphins games
Larry King spent a good part of two decades working the local media market in Miami, before he became a big name on CNN. During that period, King was working as a disc jockey, TV talk show moderator, and writing a newspaper column. One of his more interesting positions during that period was a position of an analyst during Miami Dolphins games for WIOD-610 in Miami.