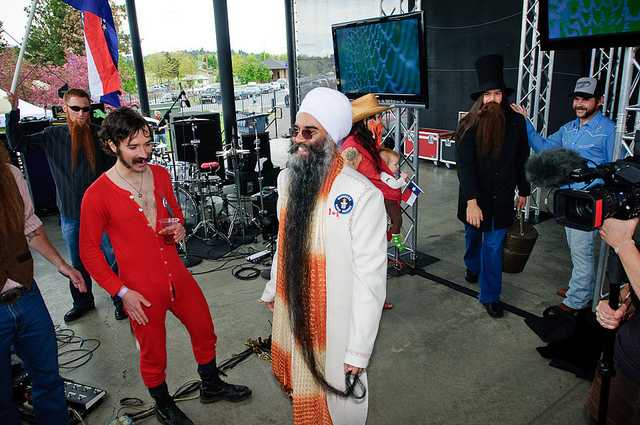 Photo by dogseat
Ever since the ancient Olympics were held and even earlier, people are pushing themselves to the limit in order to write their name in history. There are plenty of records which represent truly remarkable accomplishments but there are some really weird ones. Here we bring you our top 13 in no particular order.
1. The biggest no-smoking sign
On June 28, 2013 in Manila, thousands of people gathered up to form the biggest no-smoking sign on the planet. The aim was to increase awareness of potential health and environment issues in the future.
2. The longest body contact with snow
January 12, 2013 was a day when Chinese guy named Jin Songhao maintained full body contact with snow for 46 minutes and 7 seconds which was enough for the record. To prove his craziness he even drank beer while doing it.
3. The largest onion
September 16, 2011. Pete Glazebrook managed to grow the onion which weights 8.150 kg or 17lb 15.5oz. The stage was set at Harrogate Autumn Flower Show and Pete took the opportunity to showcase his giant onion. Interestingly this was 100th annual show at Harrogate so they got a nice gift for anniversary.
4. The most straws in the mouth
August 6, 2009 was the date when Simon Elmore coming straight outta Germany set the record for having 400 straws in the mouth for 10 seconds.
5. The most blocks smashed
On November 10, 2014 in Hamburg, Joe Alexander smashed 24 burning concrete blocks with his elbow and he did all that while holding an uncooked egg in hand. Previous record was 14 so Joe must be pretty happy about the result.
6. The biggest amount of snails on the face
In 2007 Fin Kehler allowed 43 snails to chill out on his head and just like that the previous record of 36 was broken.
7. The longest beard
At November 11, 2011 the beard of Sarwan Singh from Canada was measured at astonishing 2.33 meters. The man is only 42 so we will probably see the record go up in the future.
8. Breaking the most toilet seats
In 2008 toilet seats were broken to pieces for fun as Kevin Shelley managed to shatter 46 of them with his head in Cologne, Germany.
9. The longest cigar
May 3, 2011 was a birthday to the world's longest cigar measured at 268 feet 4 inches or 81.8 meters. If you assumed that this happened at Cuba, you would be right as it was showcased in Havana at El Morro fort where International Tourism Fair is held.
10. The most t-shirts worn
April 24, 2008. Jeff van Dijck has successfully managed to wear 227 t-shirts at once in little town of Brecht, Belgium.
11. The most amount of skin stretched
October 29, 2009. Gary Turner from the UK has a rare medical condition called Ehlers-Danlos syndrome which allows him to stretch his skin up to lengths of 15.8 cm of 6.25 inches. Luckily the disorder is not fatal as the ruberman is still alive.
12. The longest fingernails
September 2, 2009. Melvin Booth and Lee Redmond are honored as male and female with the longest fingernails in the world. We are talking about 8.65 meters for Melvin and 9.05 Meters for Lee which took them over 30 years to grow.
13. Fastest while wearing swim fins
September 13, 2008 was a date when Germany based Maren Zonker became the fastest person on hurdled 100m sprint while wearing swimming fins. Now we are not sure how many people have actually tried this but Maren is still number 1.