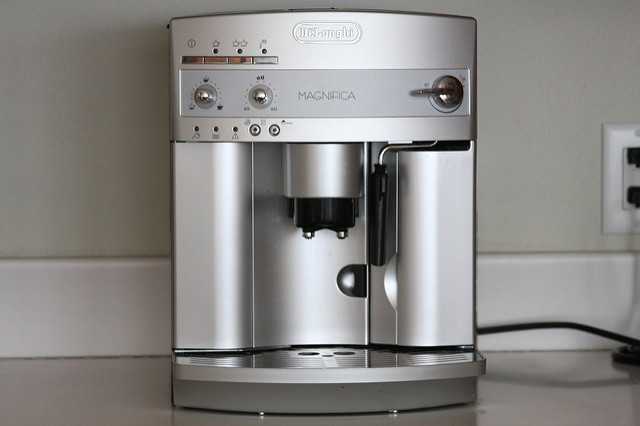 Photo by ~flyingmonkey~
Investing in the right latte and cappuccino makers for your kitchen won't only ensure that you make the best coffee possible but it is also an excellent way to save money that you would be spending at your local café. So if you want to produce the best cappuccino and latte in your own office or kitchen, we recommend you to have a look at the best coffee machines below.
1. De'Longhi Pump Espresso Machine
The De'Longhi Pump Espresso machine is a compact espresso machine that allows the use of both ground coffee and coffee pods. This dual espresso making system is an excellent choice for people who want to alternate between coffee pods and fresh coffee. The De'Longhi has dual thermostats which ensures the perfect temperature for espresso and also comes equipped with a basic milk frother.
2. Mr. Coffee Latte Maker
This coffee machine is an entry level automatic latte machine. Mr. Coffee Latte Maker's unique ability is that it automates the milk steaming process rather than the espresso extraction process. This is excellent for people who struggle with streaming milk but are fans of a frothy cappuccino. All you have to do is put in the milk, press a button and let the streamed milk come. For this reason, you will be enjoying your latte or cappuccino in no time.
3. Gaggia Classic
This coffee machine is recommended as the one of the best entry-level espresso machines. The Gaggia Classic is equipped with a durable group and commercial grade exterior, and a single boiler. Compared to other espresso machines, its small size is one of the reasons the Gaggia Classic is so popular. For the build quality and price point it is no wonder why this coffee machine is enjoyed as an excellent entry-level latte machine. The Gaggia Classic is perfect for any bench top. The coffee machine produces great espresso and silky foam in a shell that is built to last.
4. Breville Barista Express
The Breville Barista Express is the way to go, if you are looking for one of the most user friendly espresso machines. It is created with the home user in mind. The machine's inbuilt coffee grinder with adjustable settings is the Breville Barista Express' most striking feature, and as you may already know, this is a big deal in the world of coffee making. There are two reasons for this: not only because you will save the money for not having to buy a peripheral coffee grinder, but also because of the convenience it creates by reducing the kitchen bench space. This elegantly-designed coffee machine with semi-automatic settings allows you to have full control of the entire coffee making process. The Breville Barista Express is definitely mid-entry machine for the coffee enthusiast.
5. DeLonghi Magnifica
This coffee machine is a hybrid which sits between the super-automatic and semi-automatic classes of latte machine. The DeLonghi Magnifica is super-automatic as it grinds, tamps and extracts espresso with a press of a button, and it's semi-automatic as it contains an assisted steam wand. The advantage of this system is that the assisted steam wand allows you to control how much foam you want for your coffee – less for a latte, more for a cappuccino – and it allows for consistency where it counts – in the espresso extraction. In addition, as the DeLonghi Magnifica has two boilers, it allows for simultaneous espresso extraction and milk steaming. This machine creates great espresso while at the same time allowing you to create the silky milk found in special coffee houses. It is one of the best valued and popular coffee machines in its class.