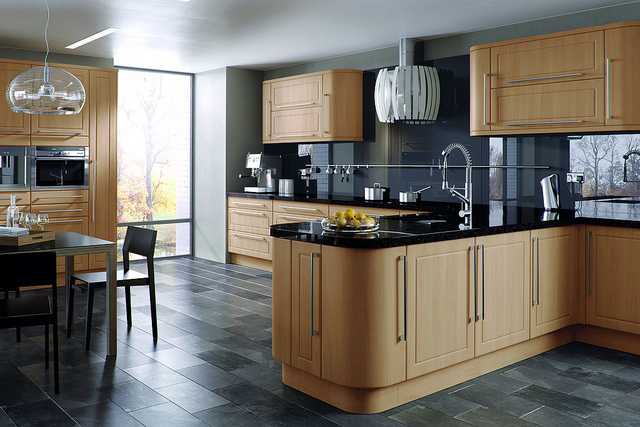 Photo by inbounduk
The kitchen's primary function is to enable you to cook and prepare the meals for you and your family and kitchen gadgets you poses play the most important role in those everyday kitchen chores.
So it's not just enough to have a whole variety of kitchen appliances but you must choose carefully of what you buying in order to get as much quality as it's possible for the money you are able to spend on it. Here are some tips and advice on how to choose the right ones.
1. First of all, make sure that you are established a kitchen layout and design so you have a clear vision of what you need and how it's going to look like when you finish a kitchen renovation. When planning a layout of your kitchen you must leave enough space for appliances that will be there because you don't want that some minor things, such as a leak of few inches make you problems for some important gadgets to fit in.
2. Set your budget. Be prepared to give up a much bigger amount of money than on some devices in any other part of your home because kitchen requires functionality more than anything else. Focus on the fact that you will not buy kitchen appliances again for some long time and make sure that idea gives you some space to bigger expenses while equipping this very important part of your house or apartment. This investment will pay off, but only if you stay focused on quality and durability of the gadgets you want, and if you are sure that what you really want is exactly what you need.
3. Realize your everyday needs and in those boundaries make a decision on what are your priorities. Don't buy something that just look pretty or that is stylish and expensive if you're not going to use it too often. Consider your cooking habits and make a purchase within those limits or you are going to spend some bigger amount of money on things you don't really need. Don't buy a double oven unless you really need it.
4. When you make a list of what appliances you really need, then it's a time to pay attention to each one of them. Buy smart, which means don't buy something just because it's cheap, and also don't spend too much money on things you didn't check out and understand, first. Make sure that each of gadgets you want fulfills your needs with its performances and features. With cooktops, you have to consider its efficiency of all different types and pick the one that will provide you some most of important factors, such as, how much heat will you lose if you are using gas cooktop or how much time your electric cooktop will need to generate enough heat.
Check out on how effective is ventilation hood that you want, or does the dishwashers you liked have controls that are simple enough and easy to use and can it save water usage when it's not full. Choose a type of refrigerator that can enable all necessary storage space for your groceries dependable on how many family members do you have and how long they can preserve food to maintain fresh. It would be perfect if you can choose a freezer unit completely separated from a refrigerator. Pick smart your microwave and you be able to use it even as a second oven. While considering all of these gadgets, make sure that they have long durability also, because you buying them to use at least for 10 years and even more.
5. Don't take small appliances for granted. Gadgets like coffee machine, or blender and toaster are also part of our everyday life. Buy the exact ones that you need and use commonly, but take care that you choose those which can provide all that you want from them in a healthy relation of a price and a quality. They main purpose is to make your baking jobs easier, to help you accomplish your ideas and to save your time. The combination of a hand mixer and stand mixer (hand/stand) is a really smart choice, for use and for storage. If you replace a standard design of a toaster with a toaster oven, you'll have a truly useful gadget that can act like a mini oven as well. While choosing the best coffee machine for your kitchen, pay more attention on a grinder, because it has probably the most important role in taste and quality of your coffee.
6. We can't avoid the importance of a brand. In the search for a quality, a reputable brand name can be most helpful no matter what do we want to buy. This will probably mean that the gadget is good as much as it is expensive, but in a long term, you will have good benefits of it. Search for the long-standing manufacturers with proven quality and you will get what you need. Warranty doesn't have to mean much for some products because every manufacturer can give you a warranty on a long term and you can end with repairing of your appliance over and over which will disable you in using it. Quality really can justify a high price and the best way to understand it is to enjoy in benefits of a reputable branded products.