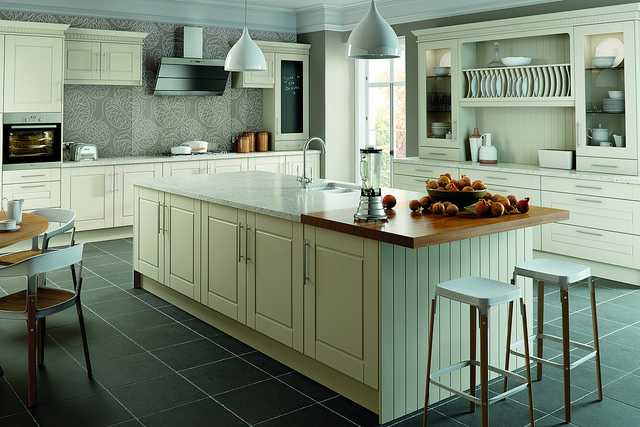 Photo by inbounduk
We already agreed that in most of our homes kitchen has a unique status, especially when it comes to renovation and reasons for it.
Most common reasons are updating your kitchen appliances, increasing of workspace and refreshing its appearance but it could also be a combination of both. If your kitchen already looks a little bit overworked, and you forget how is it to came in it with a smile, here are some tips and advice on bringing that part of your home back in life.
1. Begin with a plan
Step in your kitchen and look around. Try to visualize how it's supposed to look like in order to give you bigger space and more functionality, and of course, to attract you to spend even more time in there. In planning it's important to know what exactly you want from your new, renovated kitchen and you didn't have until now. Explore some visual ideas in magazines or internet portals which are related to this topic. This is also a time to decide either you maintain already existing design or you going to change it totally.
2. Determine a layout
The layout is extremely important because it dictate how functionally your kitchen will be. It always depends on space that you have available and it can make a big difference on, will your kitchen be roomy and functionally or just overcrowded and unfriendly for work. The main problem with layout changing can be the expenses especially if you have to remove electrical and plumbing installations. So the advice is to try to stick with your old layout with minimum modifications.
3. Refresh big surfaces
The first things that catch your eyes when you enter the kitchen are definitely every bigger surface there, such as the floor, all that cabinet doors, and countertops. When you consider about changing floor you probably think that it has to be expensive and regards a lot of work but it doesn't have to be like that. Laminated floors are very popular and useful today, they can last for a longer time and they are not difficult to install. The color palette and design of laminated floors come in a lot of varieties. If your old floor still has a potential you can just repaint it. Countertops can use some makeover as well. They can be damaged in years of using and they are not hard to repair or replace. A variety of materials and designs are there, just choose the one that you like and install it instead of old one with no mess at all.
4. Revive or replace old cabinets
The best option is always to buy new cabinets and give your kitchen totally new looks. The varieties are endless such as materials, and today you can choose either you want classic wooden cabinets or cabinet doors made of glass, or even steel-plated depends on what design do you like more. There are so many options when it comes to cabinets that it's going to be hard to pick just one, so good luck with that. If you want just to refresh your old cabinets that won't cost you much, and can give amazing effects. An entire cabinet structure doesn't have to be replaced so you can just repaint the cabinet doors, or replace a few of them with some stained glass doors.
5. Embrace the benefits of island
If there is any possibility to place an island in your kitchen, just do it. It will give you an additional storage space, a place for a sink and some other appliance, like a cooktop, and a beautiful seating area. An island can pop out as a gem of your kitchen because it seats in the middle and even guests can enjoy it even while you're preparing some meal for your friends and family without interference. It's completely optional for design and doesn't have to fit in a style of the rest of your kitchen. Not to mention that it will give you an additional countertop that you can use for breakfast or your coffee time. An island is maybe just what you need to create a perfect triangle in your kitchen and boost its functionality to the highest level. And kids just love kitchen islands.
6. Give a chance to open shelves
Open shelves can be a spectacular novelty for those who never tried this kind of design. You can buy it in many variations of color and materials and you can always arrange it by yourself. They give you a much more storage space and allow you easier access to your dishes. Don't be afraid to expose your most beautiful dishes so everyone can see it while enjoying its functionality as well. Show off collectibles if you have them also. Open shelves can become the rainbow of your kitchen if you put some different-colored cups, plates, bowls and glasses on them and they also give you a sense of bigger space.
7. Experiment with lighting
A kitchen requires a good illumination and that doesn't have to be just natural light by day and some white light bulb in the night. Add an LED recessed ceiling lights that can change a color on switch regulator and boost your kitchen with multiple faces. In varieties of modern or retro designed chandeliers, you can find the exact that you want and improve a whole appearance of your kitchen with some stylish lighting. Match your lamps or chandelier with the rest of the kitchen or mismatch it but in a classy way.
8. Upgrade your appliance set
Get what you don't already have in your gadget set, or replace some old of them with new ones, to increase a functionality of your working space. Appliances are the most significant part of every kitchen, and they really mean the difference between productivity and wasted times so don't regret money when it comes to those things. Besides their main function gadgets can be involved in kitchens looks regard on design and materials that they are made of. Your job is to realize what you really need in the kitchen and ignore what you're not going to use because you don't want unnecessary expenses and appliances are the most expensive part of that space. When buying new appliances always do your research, watch for performances and durability and don't ignore a brand name.
9. Make space for some art
If you think that art doesn't belong in the kitchen, well maybe you're wrong. Art gives a life to every place and every space. Small pictures or interesting collages related to a food or nature can do nothing but good to the appearance of your kitchen. Framed motivation messages and food related prints are something that can, not just fulfill space on your empty wall but has a tendency to make you feel joyful and happy while you preparing a meal for your family. You can take some of your children's school artwork and frame it and it will bring the smile on your face every time you look at them.