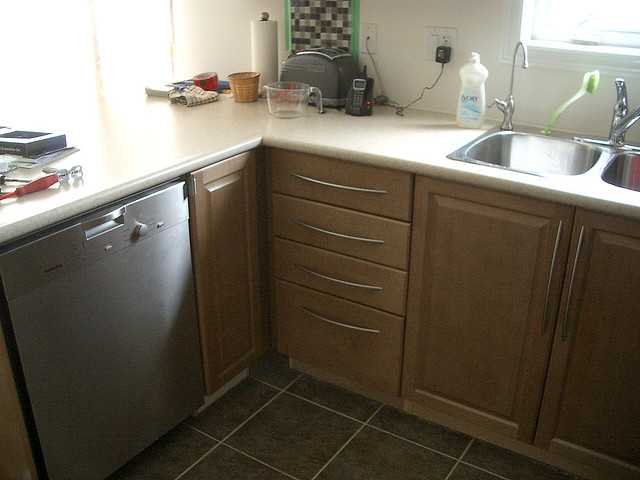 Photo by Vincent Ma
So, you have decided to buy a new dishwasher, but you have no idea what brand, what model and generally what to have in mind?
As with everything in modern life, having right information might spare you some time and money when you decide to buy a new dishwasher. Before you decide to step into the store, here are few things that you should pay attention to.
Determine How Much Space You Have
Size of the kitchen and space for the dishwasher directly dictate the choice. Dishwashers come in various sizes.
There are small dishwashers that are usually intended for four dish sets and are intended for small apartments and accommodated on kitchen desktop or a shelf next to the sink. These dishwashers are preferred because of their small size and they are generally energy class B or lower and are not recommended due to their uneconomical characteristics. They also fail because you can wash only small pieces of dishes, and larger dishes still need to be washed manually.
There are freestanding dishwashers and they are recommended for larger kitchens. These models usually come in two nominal width of 45cm and 60cm and that should have in mind too when choosing a dishwasher. 45cm width machines are usually designed for a capacity of 9 sets and 60cm width machines for 12 dish sets. You must make a choice according to the size of the kitchen and the real needs of the household.
Also, these stand-alone machines can be built-in and decision to buy ordinary or built in dishwasher is a matter of visual concept of kitchen. They have the same technical characteristics.
Pay Attention To The Efficiency Of The Dishwasher
There are various models of dishwashers in the market and they are marked with the corresponding energy class. Most preferably, the dishwasher should be A or A + energy class.
Engage
When buying a dishwasher you need to set requirements and conditions. Ask yourself how much space you have in the kitchen, what your needs for capacity are and what your budget is.
If you have a large family, think about the purchase of energy efficient equipment. In the beginning the model will look more expensive but it will pay off soon. However, if you have a smaller family, and you don't eat home regularly, consider buying a smaller dishwasher model.
Only with this information go sightseeing models in local stores and online on the internet. Also follow the actions offered by sellers of home appliances. You can save some money this way, too.
More Features Usually Means More Cost
Thorough washing, better rinsing and better drying directly affect the higher price of the dishwasher. It is important to know that if you are buying a product of superb deals that could mean higher consumption of water and electricity at each cycle. You need to decide if you want to exceed your budget or not.