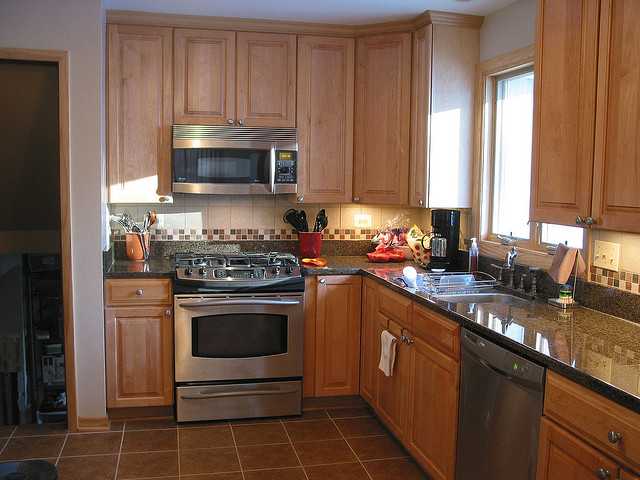 Photo by losabia
Most of the times you take long time to notice that your maple kitchen cabinets need scrubbing. It is because dusts take long time to gather until you discover your maple cabinets looking like cherry cabinets. The macroscopic levels of dusts take time to make thick layer on your kitchen cabinets. There are many ways in which you can wipe the dust and make your cabinets shiny as ever. Simple soaps and detergents make the cleaning process easy for rejuvenating your maple cabinets. Here is a guide on how to clean maple kitchen cabinets by applying simple and easy procedures.
Use of basic water on a regular basis can be very effective
Generally people use dry clothes to clean maple kitchen cabinets. It is better to make the habit of cleaning the cabinets with wet clothes than dry clothes. Normal stains go away with the use of basic water. Dirt gets stuck to wet surfaces more often. Regular cleaning habit helps people to keep their cabinets clean by wiping off the dirt. If you are not able to clean some of the prominent stains with basic water you can switch to liquid solutions. The paragraph below explains the usage of liquid solutions and spray to keep your cabinets clean.
Keep the contaminants at bay that turn your cabinets yellow by using sprays
Crawling creatures and contaminants weaken your high quality maple kitchen cabinets. You should not use the spray that you use for cleaning your ceiling and walls. You should get a conventional spray used specifically for cleaning kitchen cabinets. While cleaning your cabinets with sprays keep in your mind to remove all the metal switches from your cabinets. Instead of using sprays you can use normal soap solutions to wipe the dirt from the surface of your cabinets. After applying spray or soap solutions, you should use a dry cloth to scrub the surface.
Homemade cleaning solutions
Vinegar drops or lemon drops can be very effective for cleaning your maple cabinets. These solutions are readily available in all homes. By using these solutions you can keep your cabinets clean for longer time than ever. You should use these solutions when you are about to clean the oil patches remained over your kitchen cabinets. Don't use tough cleaning agents as these have an adverse effect on the maple cabinets. For inexpensive kitchen cabinets you shouldn't use wet clothes for rubbing of the surfaces.
Precautions that you should take before wiping off kitchen cabinets
You should clean the leaks and spot on your cabinets instantly as these leave blemishes when left for a longer period. While cleaning the cabinets you should properly close the doors of the cabinets. By following this you can safeguard the items that you keep in your cabinets. Apply lemon and vinegar drops only when the surface of your cabinets becomes oily. These solutions contain acids that may cause corrosion of your precious cabinets. While using soap solutions you can rub the surfaces as many times you want. But when you are using lemon or vinegar drops you should use them for a shorter period of time. After that you can clean the surface with wet clothes.